Skip to Main Content
It looks like you're using Internet Explorer 11 or older. This website works best with modern browsers such as the latest versions of Chrome, Firefox, Safari, and Edge. If you continue with this browser, you may see unexpected results.
Australian wheelchair athlete Kurt Fearnley poses for the cameras on the Kokoda Track
Fearnley set himself a new challenge in 2009 when he crawled the length of the Kokoda Track in Papua New Guinea.
Non-fiction narrative: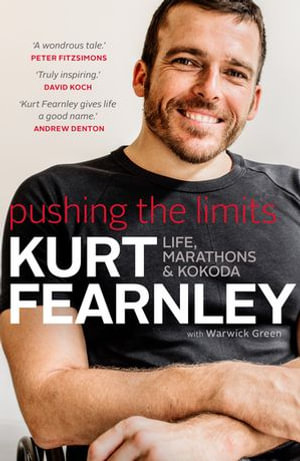 Pushing the Limits takes us inside the mind of a kid with a disability growing up in a tiny town, a teenager finding his place in the world, and an elite sportsman who refuses to give up, no matter how extreme the challenge. When Kurt Fearnley was a kid, he would leave his wheelchair at the front gate and go exploring with his brothers and sisters. 'You're going to have to be stronger than we are,' they told him, 'and we know you will be.'
Pushing the Limits

by

'Kurt Fearnley is the most inspiring figure in Australian sport, and this is a wondrous tale.' Peter FitzSimons 'There are only possibilities in Kurt's world. If you say he can't, he will.'

Call Number: 796.425 FEA

Publication Date: 2014
Reference Generator:
It is important to provide evidence of using a variety of reliable resources. Use the online Reference Generator available through the Portal to create your citations. Make sure you alphabetically sort them afterwards. Click here for a Hale School guide to referencing.
REMEMBER! HALE USES HARVARD
A sample bibliography for 2 resources suggested on this page would look like:
ABC News 2014, Kurt Fearnley: pushing the limits [HD] Life Matters, ABC RN, 6 November, viewed 25 August 2021, <https://www.youtube.com/watch?v=tAdaUlyNSXQ>.
Fearnley, K & Green, W 2014, Pushing the Limits, Penguin Group (Australia), Melbourne, Victoria.
Contact

Library 93479723

+61 8 93479723

Quick links

Library hours:

Mon- Fri 7.45am to 5.30pm (normal school day)