Skip to Main Content
It looks like you're using Internet Explorer 11 or older. This website works best with modern browsers such as the latest versions of Chrome, Firefox, Safari, and Edge. If you continue with this browser, you may see unexpected results.
Kimberley - Wandjina Rock Art
Kimberley - Wandjina Rock Art
Wandjina Dreamtime Story

The significance of the Wandjina story was shared by a number of language groups across the west and coastal areas of the Kimberley, including Ngarinyin, Worrorra, and Wunambul people.
Petroglyph - Enderby Island rock art
Online encyclopaedia:
Online encyclopaedias are great for short, concise and reliable information. It may be best to access these articles from the Online encyclopaedias page through the Hale portal. Don't forget Britannica has ready made citations for you to use.




Variety of reading levels
Quality resources including text, images, videos and 'Web's Best Sites'
Read aloud facility
Size your font up or down
Ready-made citation
Western Australian Rock Art Map
Kimberley Bradshaw Rock Paintings
Bradshaw (Gwion Gwion) rock art

Gwion art written history only begins in 1891, when Melbournian pastoralist Joseph Bradshaw became the first European to discover this stylish rock art after exploring land he had been granted in the Kimberley. The art later became popularly known as the Bradshaws.
The ancient Bradshaw rock paintings are very different to any other Aboriginal rock art found in Australia. They depict graceful human figures engaged in display or hunt. Figures are beautifully painted, adorned with tassels, hair ornaments and even clothing. The compositions finely balanced.
Bradshaw gallery

The remote coastline of north western Australia was probably the first landing site on this continent, as groups crossed by boat from Timor some 60,000 years ago. At some point, these groups began to decorate the rocks with a variety of rock art.
Kimberley Bradshaw (Gwion Gwion) Rock Paintings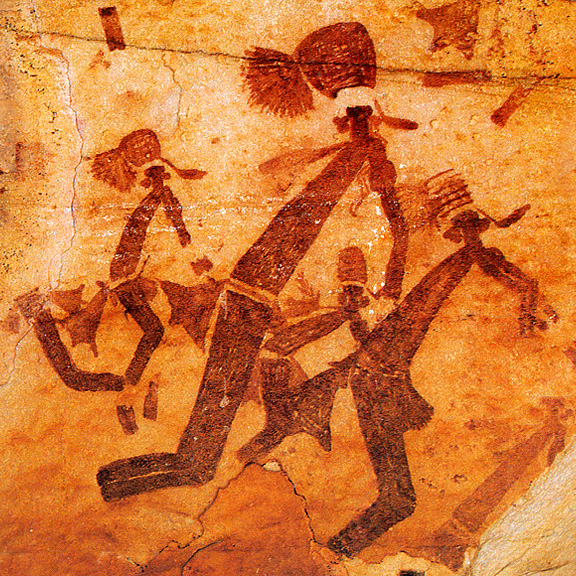 Kimberley Foundation YouTube Channel
Philanthropists spending millions to save ancient Kimberley rock art. Kimberley Foundation Australia is funding research into the origins and extent of ancient rock art in the Kimberley in a bid to document it before mineral mining destroys the paintings forever.
Snack pack:
Snack packs collect a sample of basic raw information to help save you time. If one is available make sure you look at it first.
Weblinks Database
Weblinks

Quality links selected by teachers and librarians to empower learning. The searchable online database with thousands of teacher-reviewed, approved and annotated web sites. 80 to 100 new sites added monthly.
Styles of Aboriginal Art
Styles of Aboriginal Art

Dot painting is specific to the Central and Western desert. Cross-hatching, rarrk design and x-ray paintings come from Arnhem Land. Wandjina spirit beings come from the Kimberley coast. Preference for ochre paints is marked in Arnhem Land and east Kimberley. Other stylistic variations identify more closely to specific communities.

Aboriginal Rock Art of the Kimberley – An Overview

What is Aboriginal rock art?
Rock art consists of images made on rock. The images can be painted, engraved, sculpted – even made with beeswax and spinifex resin. Rock art dates to at least 40,000 years ago. Australia has some of the world's earliest rock art. It has continued to be made by people all over the world for a huge variety of reasons. It is still created right up until today in some places – Australia again being one of these places.
Protecting Aboriginal Rock Art
Australia's Chemical Plants Are Threatening the World's Oldest Trove of Rock Art

Can Australia save its rock art? The government is considering introducing more protective measures for the Burrup Peninsula on the coast of Western Australia, home to what might be the greatest concentration of petroglyphs in the world, with over one million carvings on the areas rusty red rocks.

Archaeology and Rock Art in the Dampier Archipelago

The non-technical report is aimed at the general audience and is based on a longer and more technical review of the values of the Dampier Archipelago, which aims to describe what is known and what is not known about the cultural heritage of the area, to outline its significance, and to identify the key issues with respect to its conservation for future generations.

Race to protect Australia's rock art from mining, graffiti and feral animals

It's a battle that is emblematic of a quiet, nationwide struggle to preserve the art of Australia's first peoples in the face of a growing range of threats, from feral animals to graffiti. Professor Paul Taçon, a rock art researcher, warns that within 50 years half of Australia's rock art could disappear.
Pilbara Burrup Peninsula - Petroglyphs
Reference Generator
Reference Generator Middle and Senior Levels
Creates citations for a comprehensive range of sources – copy & paste into a bibliography.